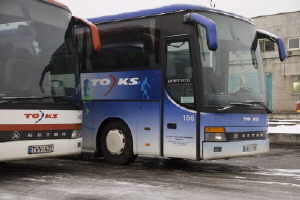 TOKS – Internet based coach terminal management  and ticket selling system, developed for Lithuanian company TOKS UAB – owner of the Vilnius coach terminal and one of the leading Lithuanian coach operators.
Main Systems' users:
cashier;
ticket selling agency;
information service;
dispatcher;
head of division;
administrator;
coach operator;
customers/passengers;
Main functionalities of the System:
Selling different types of tickets: transit , round-trip, one-way, complex tickets with connection, etc;
Ability to purchase tickets via Internet, or in special ticket terminals;
Decrease of ticket selling process cost;
Control over factual time of buses' arrival/departure;
Conducting data on routes, schedules, bus-stops, tariffs; models and schemes of buses;
Flexible discount management;
Wide variety of generated reports;
Multilingual user interface;
Ability to work with multiple currencies;
Ability to exchange ticket to another date;
Accounting pools of different coach-operators;
Benefits:
Brand new customer service level;
New distribution channels- new passengers;
Decrease of ticket selling process cost;increase of effectiveness;
Managing quality of bus terminal activities;
Enforcement of financial control;
Providing data for statistical analysis;
System TOKS is integrated with BalticLines System.
Specifics
The system is realized as multi-level Java application, developed in accordance with industrial Java architecture (Java 2 Enterprise Edition – J2EE), for relational Data Base Management System ORACLE under management of ОS Linux.